This circuit drives 64 (8x8 Matrix) LEDs. The 7219 is controlled by the PCs parallel port to light up the display.
Components
LED (64)
MAX 7219 (1)
22k Resistor (1)
5V Supply
PC with Parallel Port
Misc Supplies : Wires, DB25 Male Connector(optional for Parallel Port)
Software
The software for driving the LEDs written in VC++ 6 is available
here
.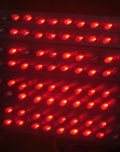 Output